Maintenance of the Trails
The Fairfield Glade Trail Crew ensures that all our hiking trails are safe and enjoyable for everyone. Our team of resident volunteers actively inspects the trails on a regular basis, all year round. We also rely heavily on timely comments from the many hikers who use our trails. Some of the many issues we remediate are:
Downed trees blocking the trail
Overgrown vegetation on or alongside the trail
Heavy layer of fallen leaves
Low hanging branches
Loose stepping stones
Tripping hazards
Wasp/bees nests
Water issues
Missing/damaged trail blazes or signs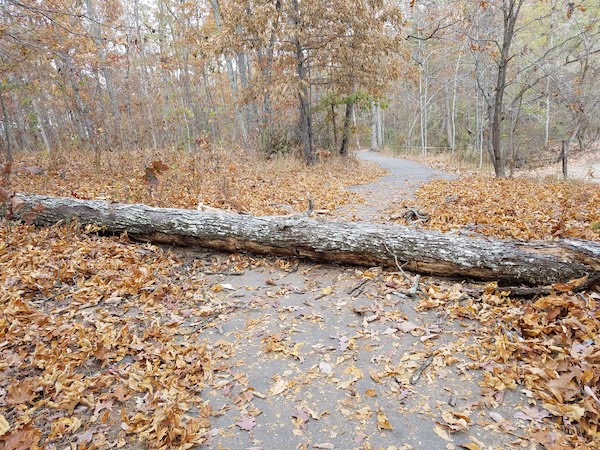 trail maintenance reports
Please use this form to report any maintenance issues you encounter when hiking our trails. When making a report, please select the appropriate trail category below, then click on the "Report a Problem" button. The form will ask for your name and a description of the issue. It is very important to know the location of the issue, especially if it is a downed tree. If possible, list the nearest emergency #911 marker to the reported issue, GPS coordinates, or identify a good landmark (e.g., a nearby bridge, rock house, stream crossing, etc.).
When reporting a downed tree blocking the trail, please take a photo of the tree and send it to GladeTrailMaintenance@gmail.com. This helps the chainsaw crew know what size chainsaw to use, and whether it requires more than one person to safely remove it. If you have a compass app on your phone, please open it and take a screenshot, and send it to the email listed above. This will show us the GPS coordinates of where to find the downed tree, or any other maintenance issue.
Tom Buckley manages the Trail Maintenance Program. He receives immediate notification of all reports. He reviews your comments and assesses what resources are needed to promptly remediate the issue. Gary VanDeCarr, the other lead chainsawer, and our Trail Boss, Mark Robinson, also receive the same notification.
Each trail has an assigned "Trail Adopter" who will also get an immediate notification of any reported issue on their trail. For additional information on the duties of the "Trail Adopter", please see the "Volunteer" section on the main page of this website.
These Trails and adopters:
Hemlock Trail (Tom Buckley

)

Good Samaritan Trail & Hickory Ridge Connector (Tom Buckley)
Rotherham Trail (Jeff Townsend)
McGinnis Trail (Gary VanDeCarr)
Canyon Trail (Ron Waldron)
These Trails and adopters:
Seven Bridges Trail (Howard Robb)
Overlook Trail (Gary Fitch)
Stonehenge Trail (Howard Robb)
Library Trail (Alyse Herman)
Glastowbury Trail (Rotary Club of Fairfield Glade)
These Trails and adopters:
Thornhill Trail (Mike Durnwald)
Kirkstone Trail (Mary Durnwald)
Amherst Trail (Corrie Cook)